A suspect was fatally shot by Collin County deputy sheriffs on Wednesday, November 1, 2023 following a vehicle pursuit on Interstate 30 near Rowlett, according to the Collin County Sheriff's Office.
The incident began when deputies assigned to the North Texas Criminal Interdiction Unit attempted to initiate a traffic stop on the suspect's vehicle. The driver fled and opened fire on the pursuing deputies, who returned fire, authorities said.
Deputies with the Rockwall County Sheriff's Office engaged in a vehicle pursuit. Rowlett Police provided assistance during the incident.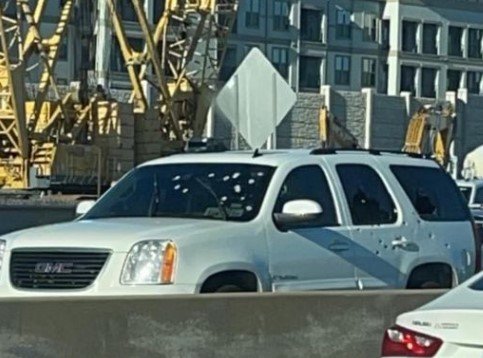 Suspect vehicle
The suspect, who was the sole occupant of the vehicle, was transported to a local hospital where they were later pronounced dead.
No deputies were injured during the incident, the Sheriff's Office said.
The Texas Rangers are leading the investigation into the officer-involved shooting, working cooperatively with the Collin County Sheriff's Office, as is standard procedure for shootings involving law enforcement officers.
Due to the ongoing investigation, both sides of IH30 had to be temporarily closed for several hours. A white SUV involved in the incident was observed with multiple bullet holes, mainly in the front and driver's side.